Look up Arrests, Most Wanted, and Police Records in Gates, NY. Results: Inmate List, Jail Records, Jail Roster Number, Warrants, Mugshot, Charges, Dispositions, Warrant Number, Bond Amount, Race, DOB, Eyes, Height, Weight, Sex, Age, Hair
Gates Police Station Address: 1605 Buffalo Rd, Rochester, NY 14624, United States
GATES Police Department shared a link.Wednesday, April 18th, 2018 at 6:18am
Wednesday, April 4th, 2018 at 6:23am Storm Updates: #1
Spencerport Rd. is in the process of being closed between Appian Dr. and Lightwood Ln. for downed trees. This is the first road closing! RG&E is onscene and they estimate that it will be closed for about two hours.
Wednesday, March 21st, 2018 at 8:43am Be on the lookout for a white work van and/or a white male in a brown hoodie who was seen at the scene of a burglary early this AM. Copper pipes were stolen from a vacant house. Watch vacant houses and call 911 if suspicious persons or vehicles are seen.
Monday, March 19th, 2018 at 9:05am ***5 arrested in 3 drug search warrants***
Gates Police arrested 5 different individuals in 3 separate cases over the last 4 days. https://t.co/vc6upSEH62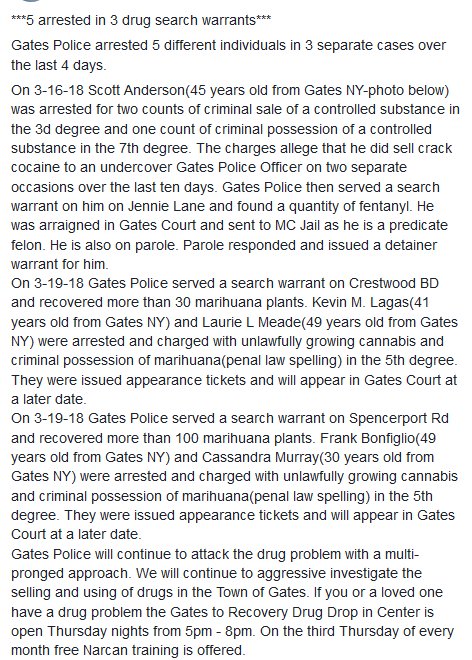 Tuesday, March 13th, 2018 at 7:21am Press Release:
Three persons arrested for the shooting on Waldorf Ave on 3-3-18. https://t.co/gTSkjBoQcG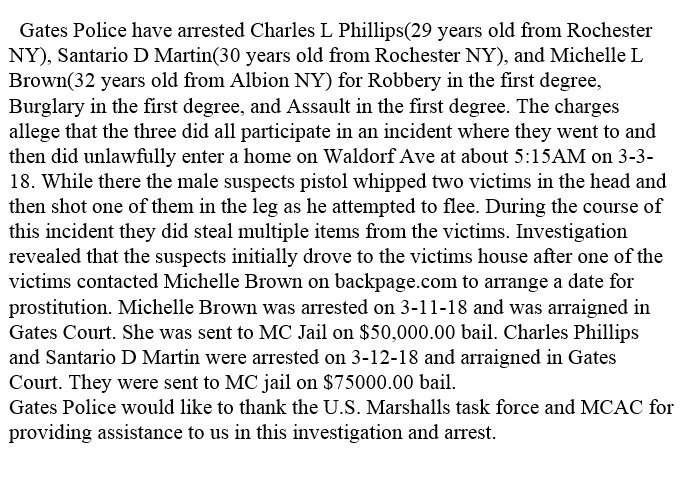 Wednesday, March 7th, 2018 at 4:57am If you own or manage a commercial or public building in the Town of Gates and would like one of these active shooter posters contact Officer Despard at 247-2262. https://t.co/r6ZxC54zWa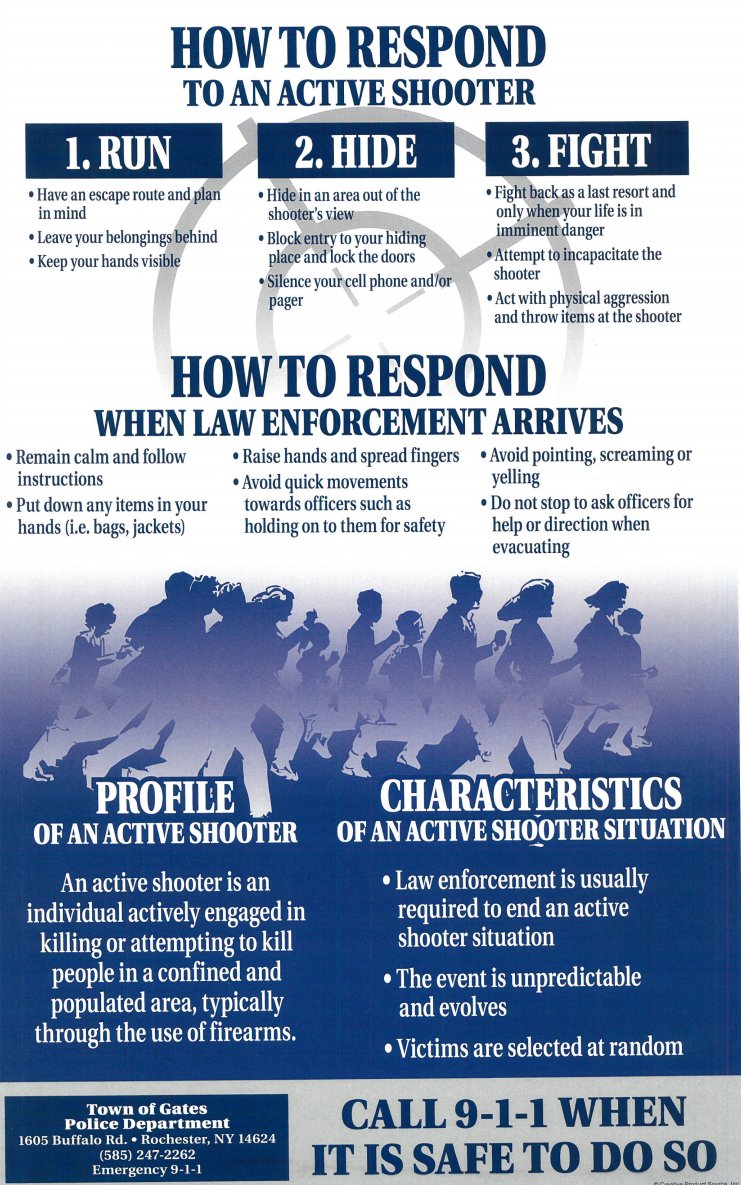 Thursday, February 8th, 2018 at 5:35am Press release: Drug arrests and criminally negligent homicide arrests after drug overdose death https://t.co/SBCsrbh69H