Look up Arrests, Most Wanted, and Police Records in Lancaster, NY. Results: Inmate List, Jail Records, Jail Roster Number, Warrants, Mugshot, Charges, Dispositions, Warrant Number, Bond Amount, Race, DOB, Eyes, Height, Weight, Sex, Age, Hair
Lancaster Police Station Address:  525 Pavement Rd, Lancaster, NY 14086, United States
The Lancaster Police Department proudly serves the Town of Lancaster, a community of 41,604 residents (as of the 2010 census). This includes the Village of Lancaster. Lancaster is a suburb of the city of Buffalo, NY. The Department currently has 49 sworn officers and 14 civilian employees. In addition to our uniformed Patrol division, we have several specialized units, including a Detective Bureau, Emergency Response Team, Accident Investigation Unit and two School Resource Officers. The current Chief of Police is Gerald J. Gill Jr.
Lancaster Police Department shared Town of Lancaster Office of Emergency Management - OEM's post.Friday, January 12th, 2018 at 2:11pm
Town of Lancaster Office of Emergency Management - OEM

Flash Freeze expected this afternoon and evening...

Temperatures will rapidly fall below freezing across the region
this afternoon and evening. Widespread rain across the region will transition to freezing rain and sleet this afternoon as
temperatures plummet. Much of the salt on area roadways has
likely been washed off given the amount of rain over the last 24
hours. Therefore, as temperatures dive below freezing, bridges and overpasses will likely ice up first, followed by main roadways, sidewalks and parking lots. Water will also begin to freeze up in areas that have experienced flooding from the rainfall and snowmelt today. Please use extra caution for the evening commute as roadways will become very slick, and adjust travel plans accordingly.

Temperatures are expected to fall below freezing by:

1 to 3 pm for Western NY including Buffalo, Niagara Falls,
Jamestown.


Tuesday, January 16th, 2018 at 6:35am Police Blotter 1/12 - 1/16/18 Patrols were dispatched to a report of a vehicle all over the road. Patrol located the vehicle on Lake Avenue and observed it cross the double yellow lines several times and then strike the curb on the opposite side of the... https://t.co/ejIKrhHLwB


Wednesday, January 10th, 2018 at 10:09am Police Blotter 1/9 - 1/10/18 Patrol was dispatched to a report that a vehicle had traveled off of the roadway and into a ditch on Cemetery Road. The female driver displayed obvious signs of intoxication. After failing several field sobriety tests... https://t.co/ejIKrhHLwB https://t.co/MVXMVrCzIJ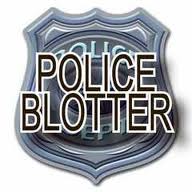 Tuesday, January 9th, 2018 at 5:39am Police Blotter 1/8 - 1/9 Patrol observed a vehicle on Gale Dr. that was being operated by a male known by patrol to have a revoked license and an outstanding warrant. The vehicle pulled into a driveway and patrol told the subject that he was under arrest https://t.co/ejIKrhHLwB