Search for Inmates in Niagara County , NY. Results: Booking Date, Jail Roster Number, Charges, Mugshot, Warrant List, Date of Birth, Location, Case Number, Arrest Date, Next Court Date, Actual Release Date, Discharge Reason
Niagara County Information
The population of the county based on what the census recorded in 2010 was 216,469 and the county seat is Lockport. The county was named after the Iroquois word Orguiaahra which means strait thunder of waters. The county was founded in 1808 and the total area is 1,140 square miles. The county office is running departments that contribute to keeping the peace and harmony in the county. These departments are attorney, emergency services, probation, Sheriff's office, and public defender.
About the Sheriff's office
The Sheriff is James R. Voutour and the address of his office is 5526 Niagara Street Ext. P.O. Box 496 Lockport, New York 14095-0496
The office phone number is 716-438-3393
The divisions in the Sheriff's office are civil process, crime scene investigation, criminal investigation, drug task force, jail, sex offender management, DARE, and warrants.
If you are a retiree, you may call Retired T/Sgt Gary Hunt at 283-5700 or Retired Inv. Roger Andrews at 731-5238
County courthouse
Chief Clerk is Colleen Wagner and her office contact number is 716-280-6207 or send her an e-mail at cjwagner@nycourts.gov
The deputy chief clerk is Sharon Guagliano and the office phone number is 716-280-6209
You can send an e-mail to sguaglia@nycourts.gov
The hours of operation are from Monday through Friday 8:30 am to 4:30 pm
Bail transactions are accepted by the County Jail. The Court stays open to accept non-fee filings and payment for emergency fines until 4:30 pm.
County jail
5526 Niagara Street Ext. Lockport, NY 14094
Phone number is 716-438-3436
Inmate visitation is available during Tuesday, Wednesday and Thursday from 8:30 am to 2:30 pm. All of the scheduled visitors have to sign in with the Lobby Officer 15 minutes before the scheduled time of visit. All visitors have to fill out a visitor's log book.
Looking For A Licensed Bail Bond Agent in Niagara County?
Niagara County  Sheriff Office Address: 5526 Niagara Street Ext, Lockport, NY 14094, United States
NCSO provides road patrol coverage, maintains the county jail, serves civil process, operates the primary 911 center for the county and operates a forensic lab and police academy.
Niagara County SheriffThursday, January 18th, 2018 at 12:23pm
Secure Your Load PSA

Robin Abel has spent the past 11 years working on getting laws regarding unsecured car and truck loads passed. I recently had the pleasure of working with her and…
Saturday, January 20th, 2018 at 10:19am Canine EJ was named after LCpl. Eric James Orlowski, a United States Marine, fellow Marine and friend of Deputy Bull, who was killed in action on March 22, 2003 during Operation Enduring Freedom in Iraq. https://t.co/PTYZwMAVCI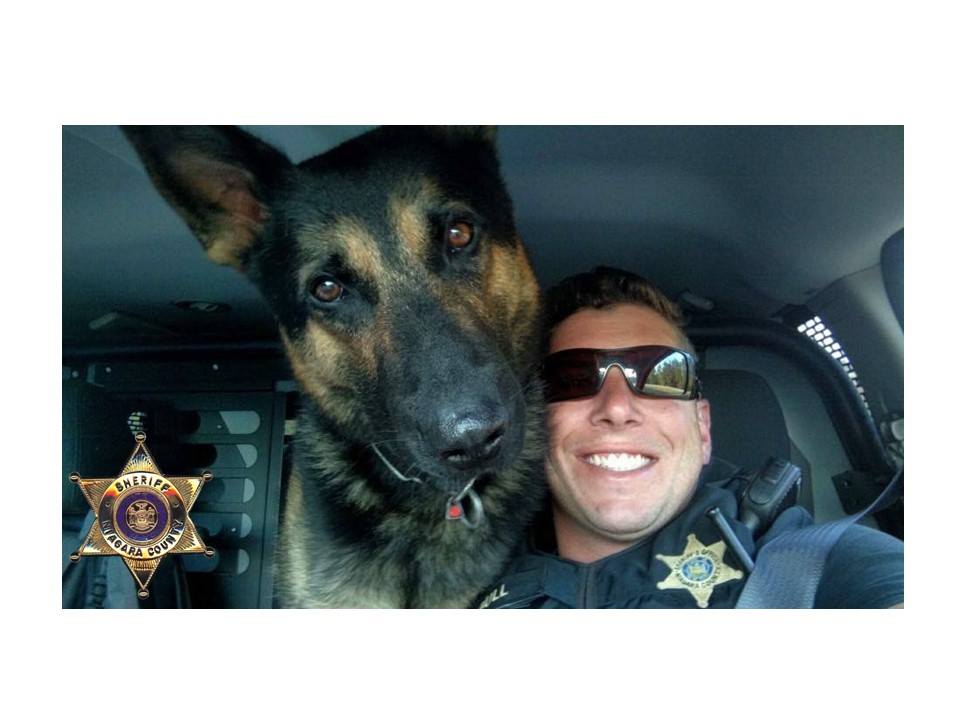 Saturday, January 20th, 2018 at 10:19am Sheriff Voutour states "While Canine EJ's tenure with the Niagara County Sheriff's Office was short, he undoubtedly will be remembered for his hard work, loyal friendship to Deputy Bull and service to Niagara County."
Saturday, January 20th, 2018 at 10:19am They also conducted several demonstrations at various events throughout Niagara County, including Lockport Blue, D.A.R.E., Young Marines and the Niagara County Fair.
Saturday, January 20th, 2018 at 10:19am During their career as a canine team, Deputy Bull and Canine EJ were responsible for several successful tracks, the recovery of numerous pieces of evidence and discovery of illegal narcotics.
Saturday, January 20th, 2018 at 10:19am Canine EJ and his partner, Deputy Richard Bull were New York State certified in criminal apprehension, area searches, building searches, muzzle deployment, tactical high-risk deployment, tracking and advanced narcotics detection.
Saturday, January 20th, 2018 at 10:19am Canine EJ was purchased in part from many generous community donations to Niagara County Law Enforcement Foundation. "The Community has always been great supporters of our Canine Division as well as the Niagara County Sheriff's Office," said Sheriff Voutour